When we were at the City Cafe in Holly Springs, MS, I saw several things that caught my eye. I love things that are made from recycled items. For instance, I like tables that are made from old doors. I like the look of an old window becoming a photo frame and old doors turned into tables.
This is the vanity in the women's restroom...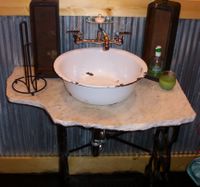 It's a antique sewing machine base, a scrap piece of marble, and a bowl for the sink! The drawers from the old sewing machine are even used as storage! How cool!! I love this idea. There was also a great vintage screen door hanging on the one of the walls as art, but I didn't get a pic of it.
(This is the same cafe where my son cracked the safe and got his prized buttons.)