DH (on the keys) had another gig with Dani at Isaac Hayes Club Friday night.
Dueling Guitars at Isaac's
(L to R: Jimmy Craig, Zack Mack & Stephen Adkisson)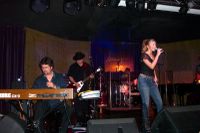 DH (aka MusicJock) and Dani (In the background - Jimmy Craig on guitar & Jeremy on drums)
On Saturday, he had a gig with Dani and the band to raise awareness and funds to sponsor children (i.e. homeless children as a result of Tsunami). This gig was a starting point the tour called Play For Change.
What is Play for Change?
It's a tour that is sponsored by
Indieheaven.com
and
Mission of Mercy
. Indieheaven has artists across the USA and their founder, Keith Mohr thought it would be great to visit towns across the country to hold concerts with Indieheaven artists.
Mission of Mercy
is a child relief and development agency based in Colorado Springs, CO. You can read more about this 18-city tour
here
. The Play for Change blog can be read
here
.
Saturday night, DH, DS/8 and I went to the Memphis Italian Festival to hear Larry Raspberry in concert. It was extremely loud and hot! The music was great (just wish it wasn't so loud). Following Larry Raspberry was a former member of Grand Funk Railroad, Mark Farner, and he put on a great show. You can read more about the concert
here
.
Not much stitching accomplished. I'm lost without my stand. I did, however, email the manufacturer, as Connie suggested. I'm waiting on a response. I have been backstitching Fish Medley at a snail's pace. I'm anxious to start a new project, so I really need to wrap this one up!